CELEBRITY SERIES' CONCERT FOR ONE PROJECT WILL BRING 5,000 PERFORMANCES TO BOSTON & CAMBRIDGE IN SEPTEMBER
One-minute concerts will pair one musician and one listener for private performances in unique art installations.
Dozens of local musicians have been tapped to participate Sept. 20-29, 2019.
Social/Web: #ConcertForOne / @CelebritySeries / concertforone.org
BOSTON – June 5, 2019 – Celebrity Series of Boston will produce 5,000 one-minute concerts over ten days this fall, in the organization's most ambitious public performance project yet. Concert for One will pair individual listeners with solo musicians for 60 seconds of focused performance and concentrated listening. The idea is to provide powerful, free music experiences for thousands of visitors, and foster intimate connections between performers and audience members.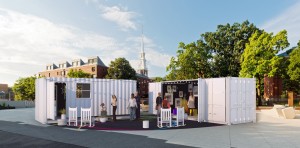 Concert for One will be staged in two locations from September 20 to 29: on the Rose Kennedy Greenway in Chinatown's Chin Park; and at Harvard University's Science Center Plaza in Cambridge. The concerts take place inside temporary art installations made from specially outfitted shipping containers that allow participants to minimize distractions and focus on the music. Concert for One is free, open to the public, and will run daily from 12 noon to 6 pm at both locations.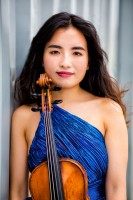 The project is based on an idea by NEC graduate and violist Rayna Yun Chou, who in 2016 conceived and produced a similar project in her hometown of Taichung City, Taiwan. Chou dreamed up the idea after talking with fellow musicians who felt isolated from the audiences for whom they were playing. She was also concerned classical music was becoming inaccessible to younger and diverse audiences because so much of it is played in high-priced venues that may feel unwelcoming or unattainable. The Taiwan project proved a smashing success, breaking down barriers and energizing musicians and listeners alike.
"When I thought about how I wanted to overcome the hurdles growing between musicians and audience members," Chou says, "I decided to test how courageous we could be as musicians, audiences, visitors, friends and strangers. Could we create a space where players and listeners would spend one minute of time together? What would happen when listeners really listened, and musicians could see the immediate reaction of the people they played for?"
Musicians and Instruments
Nearly 60 musicians will participate in 120 hours of performance. The group comprises a mix of professionals, conservatory students and highly-trained non-professionals, all of whom will be paid to perform. All musicians went through a rigorous application procedure that required them to upload videos of themselves playing and submit short essays about why they wanted to participate. A selection committee of music professionals, music educators and arts administrators reviewed nearly 200 applicants.
Stringed instruments figure heavily in the mix, with violins, cellos, violas and guitars among the most popular entries. Several pianists are on the roster, along with woodwind players toting bassoons, clarinets, flutes and saxophones. Instruments from other cultural musical styles are represented too, including a Latin American cuatro guitar, a lute whose predecessors trace back to ancient Babylonia, and a Mexican vihuela used in mariachi music. Performers come from myriad musical backgrounds, and listeners are likely to hear classical, contemporary, jazz or world music styles among others.
A Place to Gather Before and After
In addition to the concerts, the installations will incorporate open informational areas that tell the story of the project, offer interactive opportunities with musical instruments, and encourage in-person and online sharing about the concert experiences. Celebrity Series Executive Director Gary Dunning says this project stood out to him because it focused on the experience of being an audience member, and evoked a key Celebrity Series organizational mission: that the arts should be available to everyone without barriers or preconceptions.
"What's brilliant about this concept is it distills live performance to its most basic elements," Dunning says. "Whether it's a violinist in a concert hall, a folk guitarist in a nightclub, or a busker on a subway, live performance is the connection between musicians and listeners in a defined space, for a period of time. Rayna says musicians have the ability – and responsibility – to create special moments. With Concert for One, we're offering thousands of special moments for anyone who wants to experience one."
No tickets will be sold and no reservations taken, Dunning says. Anyone can come to either site and simply queue up for the experience. Details of the performance, including the performer's name, instrument or what music they will play, will be unknown to listeners until they step into the space.
Celebrity Series is no stranger to large-scale projects. For more than 80 years, the non-profit organization has been the region's premiere concert presenter, bringing to Boston thousands of performers in all genres of music, dance, spoken word and more. In 2013 Celebrity Series began producing free, outdoor public performance projects – large-scale music and dance events that allowed them to reach new audiences in spaces outside traditional concert settings. In that year's Street Pianos Boston project, 75 upright pianos, all brightly painted by local visual artists, were placed around the city for anyone to play. Le Grand Continental in 2014 featured choreography performed on Copley Square Plaza by more than 100 volunteer dancers who rehearsed for two months. 2015's Let's Dance Boston offered dance lessons over five nights to swing, salsa, mambo, disco and klezmer music. And 2018's Jazz Along the Charles featured 100+ local musicians playing all facets of the musical genre on a mile-long stretch of the city's waterway.
Credits
In Boston, Celebrity Series produces Concert for One in partnership with the Rose Kennedy Greenway Conservancy. In Cambridge, Celebrity Series presents Concert for One in cooperation with Harvard Office For the Arts and Harvard Common Spaces. Concert for One is sponsored by Leslie & Howard Appleby, Amy & Joshua Boger, the Stephanie L. Brown Foundation, The Klarman Family Foundation, Donna & Michael Egan, and the Barr Foundation through its ArtsAmplified initiative. This event is also made possible in part by support from Celebrity Series LIVE PERFORMANCE! Arts for All Endowment & Innovation Funds.
###
Media Information
• Interviews with Concert for One producers, creator Rayna Yun Chou, participating musicians from around New England, and others are available for advance stories about the project.
• Further details about the Concert for One installations, including media previews and press opportunities, will be released later in the summer.
• For more details, contact John Michael Kennedy, jmk@jmkpr.com or 781-620-1761