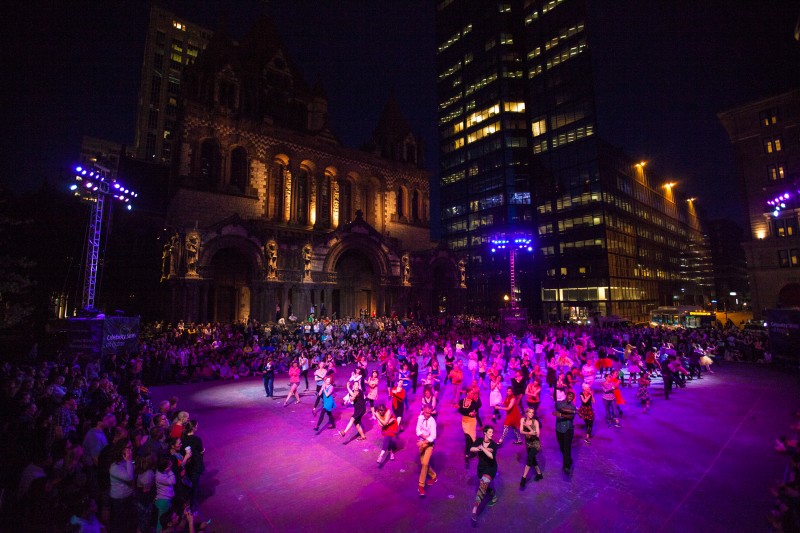 Le Grand Continental® is a free, outdoor public dance event created by the Montreal-based company Sylvain Émard Danse. Celebrity Series presented this special event for three shows during May 16-18, 2014 in Copley Square Park to celebrate the closing weekend of our 75th anniversary season. We kicked off the season in the fall with our first large public project, Street Pianos Boston. These special projects have been our gift to Boston as a thank you for supporting our mission for 75 years. So, thank you!
The 30-minute dance performance consisted of 100+ everyday Bostonians, and was inspired by line dancing and contemporary movement. Some fun facts about our 110 dancers include:
Ages 9 to 73
From 11 Boston neighborhoods and 25 surrounding communities
Many danced publicly for the first time ever
3 generations represented in one family (Grandma, Daughter and Granddaughters all danced)
Professions included teachers, an electrical engineer, criminal prosecutor, social worker, university administrator, medical doctor, college students, bartenders, retirees, and a marine!
Dancers
Leslie Appleby
Brad Arnold
Samaher Baredwan
Julie Battisti
Jennifer Bencosme
Carol Bliss-Furr
Adalberto Bonilla
Alain Bouchard
Sydney Bumpass
Rebecca Camerato
Judy Carter
Betsy Caruso
Susan Cavalieri
Felicia Chadbourne
Katie Choe
Melissa Chow
Jennifer Coates
Jennifer Cotter
Brittany Crawford
Efrain Cruz
Amy d'Ablemont Burnes
Diane Damphousse
Laurel Douglas
Catherine Doyle
Kira Dunn
Lee Ellenberg
Paul E. Fallon
Cheng Fang
Evelyn Fields
Julia Fiske *
Timothy Garvey
Hortense Gerardo
Dina Gerlovin
Marie Gertje
Barbara Golder
Victoria Goodhart
Mickey Grouse
Claudia Gutierrez
Jeanette Gutierrez
Isana Hampton
Valerie Hampton
Melanie Heazel
Chu Huang
Maggie Huff-Rousselle
Marian Ingegneri
Veronica Jaimes
Sonya Joyner
Barry Kahn
Toby Kaminkow
Janet Katz
Tracie Konopinski
Lindsay Caddle LaPointe *
Jan Larson
Kristy Lavigne
Vicki LeFevre
Gail Leichtman
Fenny Lin
Susan Livingston
Anayte Lopez
Samantha Lozzi
Sasha Krumholz Lynn *
Hannah Mahoney
Irina Mara
Virginia Mara
Stefanie Marroquin
Rene Martin *
Katie Maxim
Christine McCarron
Michelle Merry
Shirley Milfort
Zarmik Moqtaderi
Peggy Mullen
Josephine Nesbitt
Pui Sze Ng
Andrea Novelle-Ruddy
Gustavo Novelle-Ruddy
Caroline Nudelman
Melody Pao
Gabriela Perez
Mary Ellen Reardon
Ruth Sacks
Margo Saulnier **
Ingrid Schorr
Shekia Scott
Jerri Shaer
Gurumoorthy Shanmugham
Einat Shetreet
Maria (Masha) Shukhman
Bettina Siewert
Sandra Simpson
Cathie Skinner
Ann Smith
Samirah Smith
Rosalba Solis
Annie Tang
Ann Tolkoff
Marie Turley
Ryan Valente *
Karin Vander Schaaf
Keiana Walker
Sheree-Monique Watson
Cary Williams
Tamara Wilson
Mike Witt
Saleia Woodhouse
June Xie
Sandra Yuan
Mary Zaremba
Vicki Zelski *
*Rehearsal Assistants
**Company Manager
Special thanks to our talented Rehearsal Assistants: Sasha, Ryan, Lindsay, Julia and Rene!
PRESS
ArtsFuse: Fuse Commentary: Learn to Love Something By Doing It, or How I joined Le Grand Continental® and Discovered the World of Dance - Read article»
Globe: An amateur dancer's journey to Copley - Read article»
Paul Fallon's blog post: Learn to Love Something By Doing It - Read article»
Boston.com: 'GRAND' FINALE: Le Grand Continental celebrates the joy of dance for all - Read article»
Summary Report - Read the final report for Le Grand Continental® here»
PEOPLE
Sylvain Émard, Choreographer
Sylvain Émard founded his company Sylvain Émard Danse in 1987. His repertoire of more than 30 original works reveals a creator in full command of his talent, an artist who has won the admiration of audiences at home and abroad. Renowned for his refined style and precise movement, his creation in 2009 of Le Grand Continental® at Montreal's Festival TransAmériques must have come to some as a surprise. Inspired by line dancing, this unique piece has featured 1000 non-dancers in several performances across Canada, the United States and Mexico, attracting some 70,000 spectators. Recipient of numerous awards, Sylvain Émard's unique style has led to invitations to work as guest choreographer in theatre, opera and cinema. These collaborations include his joining forces with Robert Lepage in 2005 to work on the opera 1984 by Lorin Maazel, presented in London and Milan. Sylvain Émard Danse receives the support from the Canada Council for the Arts, the Conseil des arts et des lettres du Québec and the Conseil des arts de Montréal.
Peter DiMuro, Rehearsal Director
Peter DiMuro is a choreographer, director, teacher, facilitator and arts practitioner/engager. He has toured and taught internationally from Hong Kong to Pigeon Forge, TN, and places beyond and in-between. His Peter DiMuro Performance Associates and his 15-year collaboration with Liz Lerman Dance Exchange laid the foundation for his creative umbrella, PDM: Public Displays of Motion. In May 2013, he was named Executive Director of The Dance Complex, a volunteer-based, artist-run organization located in Cambridge, MA, dedicated to promoting, advancing and sponsoring creative work and education in dance and the movement arts. His many awards include White House Millennial Artist in 2000, and in 2010, he represented the U.S. as emissary for the Department of State in Madrid, Spain. He received an MFA in Dance from Connecticut College, a BFA in Theatre from Drake University, and continued study in New York, Boston and at the American Dance Festival.
THE SHOW
Mix popular tradition and contemporary art. Combine highly festive line dancing with the fluidity and expressiveness of contemporary dance. When Sylvain Émard accepted the challenge of this unlikely marriage, he had no idea of the enthusiastic audience response he would unleash or of how extremely popular it would become. The marriage of art and the village fête has indeed been consummated.
In 2009, Le Grand Continental® featured some sixty dancers at Montreal's Festival TransAmériques (FTA). The cast doubled in 2010 for Le Très Grand Continental once again at the FTA. It proved as popular as the original, as was El Gran Continental, the version presented at the Festival de México and based on Latin social dancing. In 2011, the concept has led to an entirely new piece. Making its world première at the Festival TransAmériques, Le Continental XL cast of some 200 amateur dancers performing at Place des Festivals.
Since then, New York, Philadelphia, Portland (Oregon), and Ottawa were won over by this joyous work. Each of these editions staged 120 to 160 local non-dancers. Now, it's Boston's turn: Le Grand Continental® celebrates the closing weekend of Celebrity Series of Boston's 75th anniversary.
The choreography has become richer and the intermingling of genres stronger, but the wild passion of the dance remains as dangerously contagious as ever.
THANK YOU
A huge thank you to all of the dancers, staff, sponsors, partner organizations and supporters who helped make Le Grand Continental® such a success! Celebrity Series is proud to have worked with these talented and committed individuals and organizations:
A Tent for Rent
Advanced Lighting and Production Services
Alan Boyer
Andrew Andrews
Back Bay Association
Back Bay Neighborhood Association
Bergsten Music
Boston Conservatory
Boston Dance Alliance
Boston Latin School
Boston, Parks & Recreation Department
Callanan & Klein Communications
Chris Hudacs, lighting designer
Christani Pal, LGC volunteer
Christine McMahon, Wharf Partners
Church of the Covenant
City of Boston, Mayor Martin J. Walsh
Colin Thurmond, DJ
Consulate General of Canada in Boston
Friends of Copley Square
Gabrielle Scheff, master electrician
Greg Echelberger
Janet Howes, stage manager
Jaques Aubuchon
Jill Costello
Joe Levendusky, production manager
John Driscoll, audio - Bergstens
Julia Fiske, rehearsal assistant
Lindsay Caddle LaPointe, rehearsal assistant
Margo Saulnier, company manager
Marr Companies
Mass Farmers Markets' Copley Square Farmers Market, in Boston
Park Plaza Hotel
Reggie Lewis Track & Athletic Center staff
Rene Martin, rehearsal assistant
Rep. Cory Atkins
Roberttorresphotography.com
Rosalba Solis and La Pinata
Ryan Valente, rehearsal assistant
Sam Cournyn
Sasha Krumholz-Lynn, rehearsal assistant
Sylvain Emard Danse
Sylvain Emard, choreographer
The Dance Complex, Cambridge
Tim Ellis Tim Stone, production assistant
Trinity Church
Peter DiMuro, rehearsal director
Quebec Delegation in Boston
And a special thank you to our amazing dancers! Your commitment and passion for live performance is truly inspiring.
Support for Le Grand Continental® is provided by


Le Grand Continental® is a co-production of Sylvain Émard Danse and the Festival TransAmeriques.