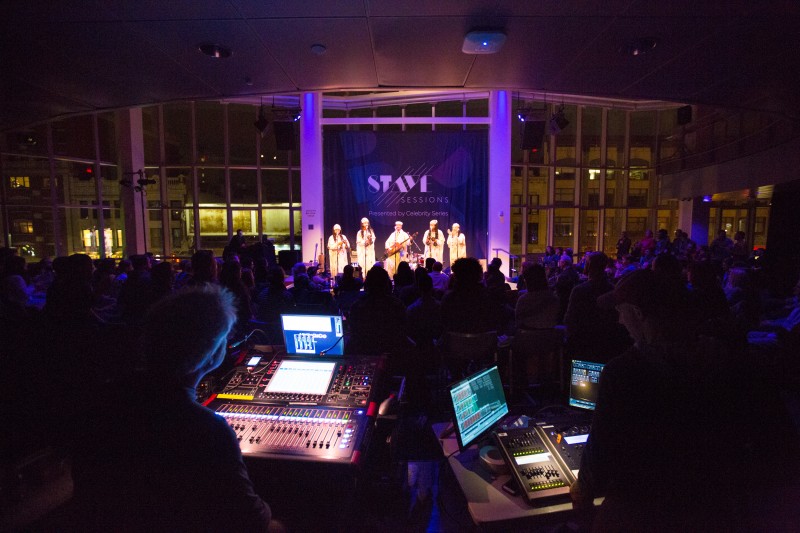 Sound engineer Steve Colby enters the room with an unassuming air. His humble manner does not reveal his years of experience cultivating soundscapes for events such as the Boston Pops 4th of July celebrations on the Esplanade, orchestra mixing for Barbra Streisand's "Back To Brooklyn" tour, countless Celebrity Series concerts, and a myriad of other events.
In fact, he's happiest when audiences don't notice him.
"The whole spirit of sound engineering is that we help performances in ways that audiences don't notice," he revealed during a recent sit-down in between performances at Celebrity Series' Stave Sessions contemporary music festival.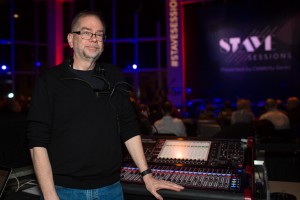 Steve not only mixes sound at Stave Sessions, but he is also the lead sound engineer for a number of other Celebrity Series performances throughout the season, including events at Sanders Theatre and Symphony Hall. In short, if a performance needs amplification, Steve is the go-to guy.
Steve and Sarah Cronin, Senior Manager of Performance Operations, got creative and started adding as much dampening fabrics and effects to the venue as practical starting with area rugs and curtains on the stage itself.
To help improve the sound across the entire hall, Steve tries to point the speakers directly at softer surfaces like at the audience members themselves. If the sound is allowed to bounce off the high dome or the walls, it rebounds and creates a muffled sound to a listener's ears. Both Steve and Sarah note that a full house makes for a much better aural experience because there are many more soft surfaces sounds can hit.
During sound check when the room is empty, it's more difficult to plan for what the hall will sound like once it's filled with audience members. Sometimes artists are concerned with the amount of echo they hear in an empty hall. However, throughout his years of working with artists and their touring crew, Steve is able to patiently explain the differences in an empty performance space versus how it will sound in live performance in order to calm their nerves or adjust expectations in the moment.
"I call it the 'human engineering' aspect of a sound check," Steve explains. "I try to talk with the artists or their traveling sound engineer so I can explain the various sound-related aspects of the hall they will be performing in—every venue has its own quirks."
"A lot of sound engineering actually starts on the stage itself with the musicians," he says. "After the artists understand the venue we're working in, they can adjust their on-stage sound levels accordingly so the instruments don't have to be overly amplified or diminished by using the sound board exclusively."
Proceeding with that "stage forward" idea serves both the artist and the audience when it comes to the sound quality during the live performance.
Whether it's a classical ensemble, a jazz show, or a speaker, Steve has the same goals in mind for every performance. He first chooses the type of loudspeaker needed for each different performance, aims the sound directly at the audience, and adjusts the volume to proper levels.
"Sound from a loudspeaker system can be like water through a garden hose," he says. "You can make a soft and wide stream, or a more direct sound. Engineers pick loudspeaker coverage patterns to maximize sound at the audience and away from hard reflective surfaces."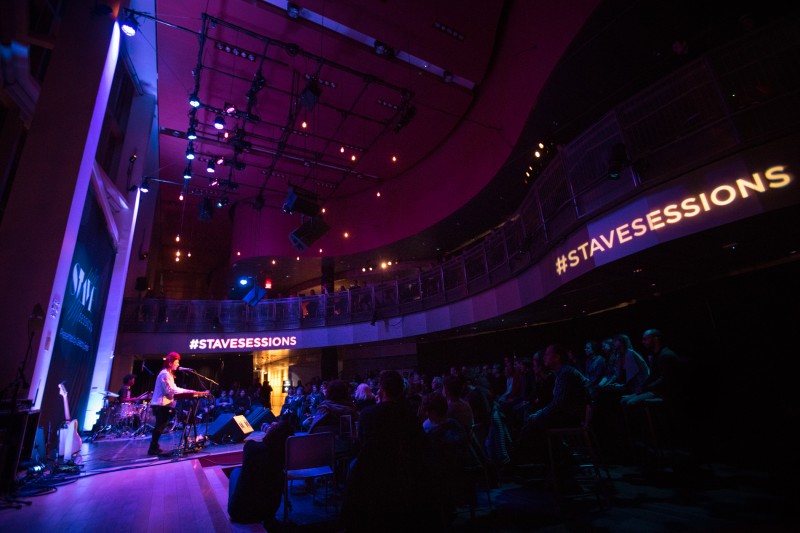 In his time working at Celebrity Series performances, Steve has a few favorite memories and artists he's worked with. He's also been introduced to new artists he hadn't discovered yet, like Gabriel Kahane, who came to Stave Sessions in 2015 and returned in Sanders Theatre in 2016.
"After his show, I went home and bought his whole catalogue," Steve says excitedly. "He was astonishing. He's so talented and knows exactly what he wants out of his sound. His music can be funny but also heartrending."
Steve credits part of his success with sound engineering and building rapport with artists to the fact that he studied music performance in school. He was a musical omnivore, and encourages younger sound engineers to learn how to read music, appreciate various genres, and understand how to blend different types of instruments.
"My motto is 'come prepared but remain flexible," he says. "Production isn't a linear kind of experience; you have to be extremely organized but fluid with problem-solving to be successful in this job."
In addition to the human engineering aspect of sound mixing, Steve is optimistic about the future of audio engineering technology.
"Many of my clients dream of sound systems that are invisible, weightless, and free! While that is unfortunately impossible to achieve, advancing technology will continue to make sound systems increasingly more high fidelity and transparent while getting more compact and having less visual impact."