Walter Pierce, a storied arts leader, impresario, and head of Celebrity Series of Boston for over 30 years passed away on July 7, 2022 at the age of 91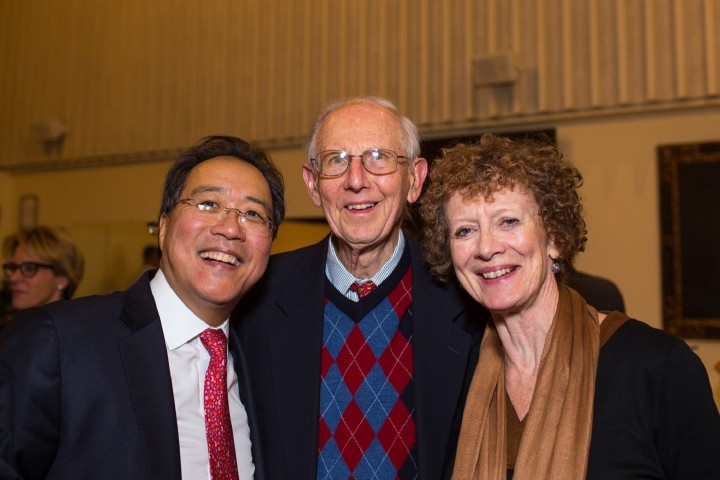 Walter Pierce with wife, Margaret Ulmer, and cellist, Yo-Yo Ma after a Celebrity Series performance in 2017
Walter Pierce, an arts administrator and impresario who stewarded Celebrity Series of Boston for over 30 years, passed away on July 7, 2022 at the age of 91. During Pierce's tenure, which began in the 1950s when he was hired as a freelance publicist working under founder Aaron Richmond and lasted until his retirement in 1996, the organization evolved into one of Boston's most enduring nonprofit arts organizations. Pierce championed beloved artists such as Alvin Ailey American Dance Theater, cellist Yo-Yo Ma, pianist Vladimir Horowitz, tenor Luciano Pavarotti, violinist Itzhak Perlman, soprano Renee Fleming, Jazz at Lincoln Center Orchestra, and many more. His long career at Celebrity Series can be summed up in the words of longtime Boston Globe classical music critic Richard Dyer, "Walter Pierce always did know how to do things right."
Born on November 1, 1930 in Cambridge, Massachusetts, Walter Pierce graduated from Rindge Technical High School in Cambridge, Massachusetts in 1947 and from Boston University in 1952. He was drafted into the U.S. Army in September 1952, and served for two years, most of it in Germany.
Following his discharge, Pierce moved to New York City, working for the advertising firm of Ruthrauff and Ryan before joining the theatrical publicity firm of Max Eisen. While with Max Eisen, Pierce promoted Broadway and off-Broadway shows, including Yiddish Theatre productions, and the summer tent productions of St. John Terrell who conceived 'Broadway under the big top,' known as Music Circus.
Pierce returned to Boston to pursue a master's degree in Public Relations at Boston University, following which he joined the South Shore Music Circus, a summer tent theater in Cohasset, MA, as publicity director. During Cohasset's off-season, he freelanced as a publicist promoting the Boston premiere of Frederico Fellini's film, "La Strada," as well as being the lead promoter for the Metropolitan Opera's annual tour to Boston.
During his second season at the South Shore Music Circus, Pierce was introduced to Boston impresario Aaron Richmond, who offered him a position with the Boston University Celebrity Series. He continued his freelance career until 1960 when he came to Celebrity Series on a full-time basis. Following Aaron Richmond's death in 1965, Pierce briefly shared co-managing directorship of the Boston University Celebrity Series with Mrs. Richmond until her retirement a few years later.
Following Mrs. Richmond's retirement, Pierce assumed the sole managing directorship of the Celebrity Series and continued in that capacity until his retirement in 1996. During that period, Pierce expanded the number of presentations and broadened the range of programming for Celebrity Series. Pierce was appointed Executive Director of the Wang Theatre in 1984 and brought the Series with him, to then be renamed as the Wang Celebrity Series. In 1989, the Celebrity Series ended its affiliation with the Wang Center, and was incorporated as an independent, non-profit organization under Pierce's leadership.
During his tenure he is estimated to have presented over 1,500 concerts and events including the Boston debuts of artists such as Alvin Ailey American Dance Theater, tenor Luciano Pavarotti, pianist Vladimir Horowitz, cellist Yo-Yo Ma and pianist Emanuel Ax, Jazz at Lincoln Center Orchestra with Wynton Marsalis, violinist Joshua Bell, Preservation Hall Jazz Band, Paul Taylor Dance Company, dancers Twyla Tharp & Mikhail Baryshnikov, mezzo-soprano Cecilia Bartoli, pianist Evgeny Kissin, and countless others. During Pierce's years at the helm, the Series also added major educational and artist debut elements to its activities—Project Discovery and the Emerging Artists Series.
At Pierce's tribute gala concert in Symphony Hall in 1998, a distinguished array of artists participated, including Emanuel Ax, William Bolcom and Joan Morris, Natasha Thomas-Schmitt of the Alvin Ailey American Dance Theater, the Juilliard String Quartet, Robert Mann, Yo-Yo Ma, Jean-Pierre Rampal, Isaac Stern, and Dubravka Tomšič. Among those in attendance at the gala were famed soprano Leontyne Price and Judith Jamison, Artistic Director of the Alvin Ailey American Dance Theater. It was announced at the tribute that seat P1 in Symphony Hall was endowed in Pierce's name, and that the Celebrity Series inaugurated the Walter Pierce Annual Performance Fund to support programming and community activities.
Pierce also served as president of the International Society for the Performing Arts as well as on several Greater Boston performing arts trade and service organizations.
Walter is survived by his wife, pianist Margaret Ulmer, his sister Tess and family, and his daughters Melinda Pierce and Susannah Keefe and their families from his first marriage to Betty Ann Pierce, whom he met and worked with at the Celebrity Series.
Burial will be private at Mt. Auburn Cemetery. The Series is planning a celebration concert for Walter in the fall of 2022. In lieu of flowers, unrestricted donations may be made to the Celebrity Series of Boston Walter Pierce Annual Performance Fund, the Annual Fund of Celebrity Series of Boston.